*** NEW INVESTMENT OPPORTUNITY COMING SOON ***
You must be a qualified investor to take part in this investment opportunity.
Please read the FAQs (in particular, the 'Invest' and 'About Simple Crowdfunding' sections) before you register your account.
INTRODUCING ENGEN SYSTEMS
What if you could invest in a company where you can make a positive impact on the planet and generate power where the input energy is FREE?

Well now you can.

"E-Engine converts more of the available usable energy to electricity than any other heat recovery-to-electricity generating system leading to a greater amount of MW power generated at substantially shorter payback times"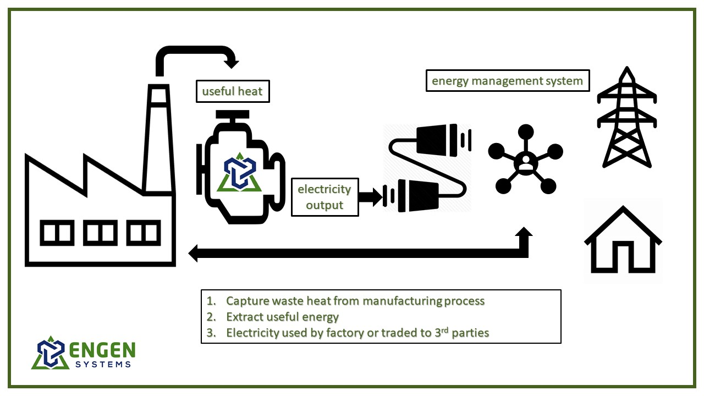 E-Engine
harnesses waste heat created by industrial process and repurposes it into electricity, providing electricity to use on site or divert into a local grid.

THE NEED
Waste heat is everywhere. Every time an engine runs, a machine clunks away, or any work is done, heat is generated. That is a law of thermodynamics. Often, that heat gets thrown away, discharged out into the atmosphere. The scale of this invisible garbage is huge: About 70 percent of all the energy produced by humanity gets discarded as waste heat. This energy source is the largest available on the planet and unless it is used, it is a wasted opportunity.
The UK has signed to be the first major economy to pass a net zero emissions law, which means by 2050 greenhouse gas emissions must be zero. It is estimated that the Worlds electricity usage will increase a further 50% by this period, putting more pressure on renewables. To quantify the task at hand, in 2017, 64.5% of the Worlds electricity was generated by burning fossil fuels, with coal power stations being the largest contributor.



MARKET SIZE




The Global Waste Heat Reclamation market is expected to surpass $65 Billion by the end of 2021 with a compound annual growth rate (CAGR) of 6.9%
. Industry in the EU accounts for about 28% of the energy consumption and 48% of the CO2 emissions. The total waste heat potential of the EU is over 300 TWH/yr with the technically reclaimable heat amounting to 90 TWH/yr (Bianchi et al., 2019). The waste heat potential of the UK is 24 TWH/yr with the reclaimable heat at 10 TWH/yr (Papapetrou et al., 2018).
TIME FOR CHANGE
After almost 30 technical iterations and 16 prototypes the E-Engine system was born. A fully working prototype has validated over 40 years of engineering innovation. The first full production model is currently under construction at our manufacturing facility. Our modular system allows electricity generating capacity to be added in 250KW increments until all the available input energy is used.

REGISTER YOUR INTEREST
Full details about this investment opportunity will be made available early January. REGISTER NOW
Please read the
FAQs
(in particular, the 'Invest' and 'About Simple Crowdfunding' sections) before setting up your account.