2022 Property Market Predictions
Posted on 04 January 2022
5 Predictions for the UK Property Market in 2022

What are the top 5 property market predictions for 2022 that investors should keep an eye on?
Analysts say 2021 has been the UK property market's busiest year since the financial crisis of 2007/8. With the property market in the UK changing constantly it can be difficult to predict what will happen next. As ever, predicting property trends isn't an exact science, but worry not! This blog has 5 predictions for the property market in 2022 that investors should keep an eye on. Learn how these predictions could affect your investments.
1 : The property market will be busy, but less frenetic
According to Rightmove, the UK's housing market is likely to return to more normal levels of activity in 2022 but will still be busy, with strong buyer demand carrying forward into this year and a stable number of homeowners getting ready to sell.
The property website said that following a "frenzied" 18 months, the market was heading for a "less frenetic" period, with a more even balance between buyers and sellers as more homes are put up for sale and higher interest rates take some of the heat out of buyer demand.
With the world currently struggling to fight off yet another Covid variant, the economic impact may be hard to predict, and the market could become more volatile over the next few years. This means that prices could rise and fall quicker than they have in the past. Investors should keep an eye on the market trends and consider their investment exits. Volatility can present both opportunities and risks, so it will be important to stay up to date with the latest property strategies and news in order to make well-informed decisions when investing.
2 : Average property prices will remain strong
Against all predictions last year, 2021 broke all records on the average house prices. During October, average house prices across the UK stood at £268,349, according to the latest available data released by UK Finance.
Whilst this was a slight dip of 1.1% against September, this was to be expected as the temporary stamp duty holiday came to an end.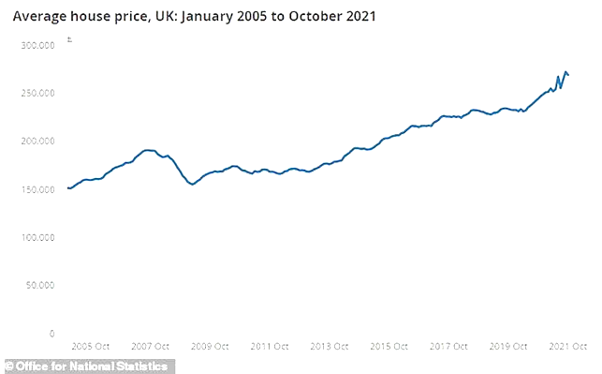 The biggest problem the housing market faces is still a huge imbalance between supply and demand, putting upward pressure on house prices. Furthermore, costs of materials and labour have risen, rules and regulations are restrictive and there is a backlog of planning applications. All these have a major impact on the housing market and average house prices. With not enough housing available, prices are likely to remain strong for the foreseeable future and increase further, especially in popular locations.
If you are looking to invest in property in the next few years, do your research and spread your risk across projects. If you are investing in crowdfunding projects, learn about the developer and project.
3 : A strong rental market with rental prices rising
According to the English Housing Survey, nearly one in five households in England live in the private rented sector – that equates to over 4.4 million households nationwide. 17 per cent live in the social rented sector and 65 per cent are owner occupiers.
With property prices continuing to rise, home ownership is becoming increasingly difficult for many. Some experts predict that the UK will become a nation of predominantly renters by 2045, with 55% of the population living in the rental sector.
Along with property prices, rent prices are also predicted to rise over the next few years. This means that landlords can expect to see higher profits from their investments. But it also means that tenants will likely face higher rents when looking for a property to rent.
However, in recent years the regulations have tightened, with an increase in the obligations that every landlord must abide by. These include anything from fitting smoke alarms and carbon monoxide detectors to issuing annual gas safety certificates and ensuring that electrical devices are safe to use, all of which impact rental yields.
The government is now proposing to bring the required Energy Performance Certificate rating from E to C forward to 2025. Many properties are not up to or cannot meet this standard, especially Victorian and older properties. If the government is not forthcoming in financially supporting landlords to make these changes, rental prices will increase further. No doubt many will leave the market, which means rental properties will be harder to come by and become even more expensive.
If you are planning on becoming a landlord in the next few years, then it is important to factor in these changes when setting your rental prices. For those of you investing into crowdfunding opportunities, this presents an opportunity if you are looking for cashflow.
4 : Interest rates will go up
After a Covid-induced lull, summer 2021 saw a surge of competitive buy-to-let mortgage deals, with many lenders increasing maximum loan to value (LTV) amounts from 75 per cent to 80 per cent. This means that potential investors do not have to raise quite such a hefty deposit to secure a mortgage. In the buy-to-let arena, lenders started to reduce interest rates and offer fee-free options. Despite talk of inflation and a potential increase in the Bank of England base rate, interest rates on all mortgages remain historically low.
Even though interest rates have remained very low, the Bank of England won't wait to tackle rising inflation, despite the ongoing Covid situation. How the new strain, but also Brexit (longer-term), will impact the economy and inflation is a big unknown. But the general census is that inflation and interest rates will go up.
If you are looking to increase your property portfolio, it would be wise to consider your finance options now. In parallel, there is still time to revisit your mortgages and secure a fixed rate deal as quickly as possible.
5 : Investment into property through crowdfunding will continue to grow (faster)
For those investors not wanting to purchase an investment property themselves, there is an alternative. Property Crowdfunding is growing quickly and allows you to invest in property at your own level and pace. There are many benefits to accessing the property market this way.
Through crowdfunding, you can access multiple projects to invest in. As an approved investor, you can diversify your investments across multiple projects, spreading the investment risk. Depending on your appetite for risk, you can choose to invest in debt projects (fixed returns over a fixed period of time) or equity projects (projected higher returns, with higher risk). You can also invest into certain projects using your pension and/or ISA allowance, allowing for tax free returns.
Through crowdfunding, investors become part of a like-minded community where they can learn from other investors and the developer.
If the above has left you with a taste to get on the property ladder, access property investments or learn more about property crowdfunding, come and join the growing crowdfunding community ==>
www.simplecrowdfunding.co.uk
Investment Risk
All investments carry risk and returns are not guaranteed. Remember to always do your own due diligence, read the information provided and ask questions.
#simplecrowdfunding #propertycrowdfunding #peertopeerlending #equity #crowdfunding #investment #propertyinvestment #propertymarket #ISA #IFISA #simple