Property Crowdfunding is a method of using the crowd to finance property projects. These investment opportunities are available to almost everyone, with many people investing small amounts into a property project. Some projects also offer learning opportunities, allowing the general public to learn how property works, whether it be planning gain, new build or conversion.
Property crowdfunding usually takes one of two forms. The two types vary in their risk and return profiles and it is really important to understand the differences. These are explained below.
Equity Based Property Crowdfunding
In an equity based property crowd raise, the investor is typically buying shares in the company that owns the property. The property can be a plot of land, a building or other property asset. In essence, the investor becomes a part owner of the company.
Returns are received in the form of dividends and capital growth. Dividends can be paid throughout the project (based upon rental income for example) and capital growth usually at the end when the project is sold or re-financed.
Peer to Peer Lending
If you invest in a peer to peer loan, you lend money to the property developer. You are like the bank, loaning money for a fixed term, for a fixed return. The loan is usually secured against the property, and usually on a first charge basis (first in the queue for repayment).
Things to Consider:
Lending provides a more stable and predictable return than equity
The holding period is known for lending, and is often shorter than with equity
It is possible to invest using an ISA for tax-free returns when lending
Equity has the potential for bigger returns
Typically, the higher the projected return, the higher the projected risk
Below is a graph that shows the payment priority alongside the risk and return profile for a typical project.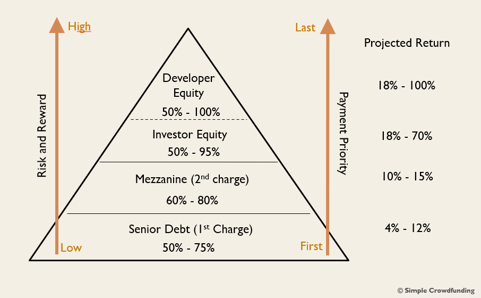 How to differentiate between the two types on Simple Crowdfunding:
When you go to the Invest page, it is simple to distinguish between the two types of investments.
Equity projects have a copper border and have an 'Equity' badge against the project.
Peer to peer loans have a grey border and have a 'Peer to Peer Loan' badge against the project.
Want to find out more?
Contact the Simple Crowdfunding team
.
#propertycrowdfunding
#equityvsdebt
#equitycrowdfunding
#peertopeer
#simplecrowdfunding